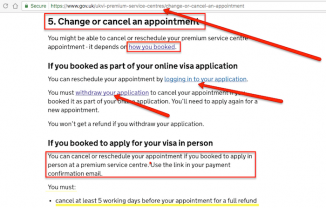 How To Cancel The Home Office
The Home Office is a department in the government of the United Kingdom. This department is responsible for security, law, order and immigration in the UK and also for the MI5, the Security Service. The Home Office is responsible for immigration and issuing visas, for the fire and rescue service and for the police. It is in charge to the counter-terrorism, ID cards or security issues related to drugs. The annual budget is almost ?9 billion. In this article, you will be able to understand how to cancel a Home Office application such as cancelling your visa, citizenship or immigration application. To do that you have to follow some steps:
Visit The Home Office website
Read the frequently asked questions and help pages
Contact the Home Office Customer Service?0300 123 1837

The information that you will find in this article will act as a multi-step guide that will lead you in the cancellation process with Home Office. You will be able to understand with each step you take important things that will help you save time and money. If you need to know more about the Home Office, please feel free to visit the Home Office contact numbers page.
Step 1 ? Enter Main Home Office Website
You will find that best source of information about how to cancel a Home Office application or appointment is to visit the Home Office main website.
First, enter the main Home Office website by clicking this link
Be sure what kind of application or appointment you want to cancel
Prepare a payment method in case you have to pay for cancellation fees
Step 2 – The Home Office Cancellation Fees and Refunds
Cancel a Visa appointment
You will be able to cancel or even reschedule your Visa appointment with Home Office. You can do that by logging into your application and then you have to withdraw your application if you want to cancel your appointment. If you withdraw the application you will not get a refund.
In case you booked to apply for a visa in person you have to use the link in your confirmation email. You need to cancel the appointment with at least 5 days before. Refunds after the cancellation will take up to 4 weeks and it will be paid to the original credit or debit card used when making the payment. If you do the cancellation with at least 5 days before the appointment, you can receive a ?500 application fee back, the fee for the visa type, a healthcare surcharge and ?63 fee if the appointment was booked outside the office hours.
Cancel Visa, Citizenship or Immigration application
You may cancel an application for visa, or citizenship. If you applied outside of the United Kingdom you can Contact UKVI if you want to know how to cancel the application. A refund will be available only if the application has not been processed yet. In case you applied in the United Kingdom, you will not receive a refund fee. It is possible to lose the permission to stay in the United Kingdom if you will cancel your application.
Step 3 – The Home Office Cancellation Process
If you want to cancel an appointment for a visa application, just log in to your Home Office account and then just withdraw your application. This is an important step in cancelling your appointment. It is important to remember that cancelling this appointment will not give you the right to a refund. If you can not do this cancellation online, inside your Home Office account, just read the text below to get in contact with The Home Office customer service.
Step 4 ? Contact The Home Office Customer Service Contact Number Helpline
You will discover that making a cancellation of a Home Office visa appointment or cancelling a Citizenship, Immigration or Visa application is simple over the internet on the Home Office webpage. In fact, to change a Home Office appointment only requires you logging into your account and with just a few clicks, you will be able to cancel a visa appointment ar an application. If don?t know how to do this Home Office cancellation online, then you will need to contact The Home Office phone number?0300 123 1837. A customer support team agent from Home Office will be there to help you with any questions you may have regarding your cancellation!