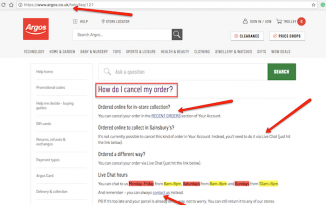 How to Cancel Argos
Argos is a British retailer company operating in the UK trading in physical store and online. Argos owns more than 700 stores all across the UK and their website is having more than 800 million visits in a year, making it one of the biggest player on the online market of the retailers. The Argos company was established 44 years ago and today has a number of 51,000 employees with sales of more than 4 billion in 2009. The area served is the United Kingdom and Ireland, the main products sold are the consumer goods. If you are an Argos customer and you want to cancel your order, this article will help you to do that easier. You will learn important information on what steps you will have to follow to cancel your Argos order or account.
Visit the main Argos site
Log in to your Argos account
Check the fees you need to pay for the Argos cancellation
Contact Argos Customer Service 0345 640 2020
This information is a multi-step guide written for readers to easily cancel the Argos order. With each step you take, you will be able to learn important things you need to do in order to cancel your Argos order, saving time and money. If you want to know more about this retailer company, just visit the Argos contact numbers page.
Step 1 ? Enter The Main Argos Website

When you enter the main Argos website you will be able to find the best information about how to cancel your Argos order. You will?find the help section where you can read all the information on how to get in contact with the customer service. You can send them an email or you can contact the support team by live chat, or at then end of this multi-step guide, you will find the contact number.
Enter the main Argos website by clicking this link
You have to make sure that you know what exactly you want to cancel
You need to prepare a payment method in case you have to pay some cancellation fees
Step 2 ? Review Argos Cancellation conditions
If you go to the customer service help page you will be able to find answers to your question about how to cancel your Argos order. If you ordered online for a collection in store, you can cancel that order in the Recent Orders section in your Argos account. If you ordered online with the intention of collecting in Sainsbury's and now you want to cancel it, you need to know this is not possible. You can do it instead by talking to a customer service agent in a live chat. If you ordered in a different way, you can use that live chat too. The available hours for a live chat are from Monday to Friday, 8 AM to 9 PM, Saturday from 8 AM TO 8 PM, Sundays from 10 AM to 6 PM. You can also contact Argos directly. If the Argos parcel it's on its way, then you can still return it to any of the Argos stores once you get it.
Step 3 ? Log In and Cancel Your Argos Order
Log into your Argos account with your email and password and go to My account section where you will be able to see your active orders, or just continue shopping to start a new order. Click Recent orders and find the one you want to cancel and click cancel. Then your order will be cancelled if it wasn't already processed and shipped.
Step 4 ? Contact Argos Customer Service Contact Number Helpline
To cancel your Argos order it is a very easy process. You can do that online by logging into your account and locating your Argos orders. If you can't find your order, this means you have no active order on their website. If you can not do the cancellation by yourself online, on the Argos website, you still have the opportunity to do that by the phone or by live chat. To cancel your Argos order, simply get in touch with the Argos phone number 0345 640 2020 and a member of the customer service team will be there for sure to help you with any queries you may have and to guide you on the cancellation process!