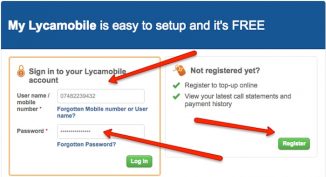 Lycamobile is a mobile network operator based in the United Kingdom, operating in more than 20 countries worldwide with more than 15 million customers worldwide and a revenue of ?1.6 billion in 2015. If you are a Lycamobile customer and you want to cancel one of their services, then you should read this article and you will find useful information that will help you to cancel any of their products. This includes cancelling a Lycamobile bundle, a Lycamobile auto renewal option, a Lycamobile voicemail or a Lycamobile account. To proceed with the cancellation of any of those services, you should follow the steps explained below.
Visit the main Lycamobile web site
Check the FAQ and Help pages to see the cancellation fees
Contact Lycamobile Customer Service 0207 132 0322 or dial Lycamobile number 322 from your cell phone

The information provided on this page may act like a multi-step guide created for you in order to better understand how to cancel your Lycamobile services. You will understand with each step you'll take important things like what steps you need to take, how to access the Lycamobile website, how to cancel your Lycamobile, bundle, auto renewal option, voicemail or your Lycamobile account. If you need to find more about this company and their services and contact numbers, please visit the Lycamobile contact numbers page.
Step 1 – Enter Main Lycamobile Website

When you visit the main Lycamobile website, you will find the best source of information about how to cancel Lycamobile products and services.
First, enter the main Lycamobile website
Make sure you know exactly what type of service you want to cancel
Prepare a payment method for your Lycamobile cancellation
Step 2 – Review Lycamobile Cancel Service Conditions

Go to the Lycamobile FAQ page and read the information about cancelling your products and services. You will understand how to cancel different type of Lycamobile products. You will be able to learn how to keep your Lycamobile number if you don't use any of their services, what to do if your handset is locked, what is a My Lycamobile, what should you do if you forget your PIN/PUK codes and more.
How to Get Lycamobile Puk Code Online
If you forget your Lycamobile Pin code and you enter it wrong three times, your SIM card will be locked automatically. In this case, you need to enter the Lycamobile PUK code. You can find that code on the SIM card holder in the starter pack. You can also find the PUK code in your Lycamobile account. If you can't handle this by yourself, call the Lycamobile customer service number?0207 132 0322.
How to Get Lycamobile Internet Access Point

If you want to be sure you can access the Internet from your phone with a Lycamobile SIM card, you need to have enough data allowance and enough balance on your cell phone. If you have enough data allowance and it's still not working, you should ensure that data are on and active.
How To Cancel Lycamobile Voicemail
First of all, to access your Lycamobile voicemail you need to dial 121 from your Lycamobile phone. Calling this number is free and it is a service that has been automatically activated. To have Lycamobile disable voicemail services you should dial *185#.
How to Deactivate Lycamobile Sim

In the unwanted event that you've lost your Lycamobile SIM card or it was stolen, contact the Customer Service as soon as possible and you will receive assistance. If you want to block your SIM Card, ask that to the support team. If you want to claim Lycamobile insurance as soon as you've lost your SIM Card, contact the customer service and send them the IMEI number and make/model and a copy of a utility bill for identity verification purposes.
You can also request a new SIM card by ordering it online or by going to one of the retails partners. When you receive your new Lycamobile SIM card, call the Customer Service number and your old number will be transferred to your new SIM card if you want.
How to Cancel a Lycamobile Bundle Auto Renewal
When you purchase a Lycamobile UK plan you can save a lot, over 70% of national calls, texts and also the internet. These plans are easy and quick to buy and also ready to be used as soon as possible and there is no need to get another Lycamobile SIM if you already have one. You can use it for all UK and international calls, texts and internet needs. You can control the usage and there is no contract to sign and you have no commitment. As you can see from the photo, at this moment there is four type of bundle plans, starting from ?15 with 50% up to ?25 with a 50% off also.
With this last UK Ultra Plan, you can get Unlimited UK calls, 100 International Minutes to selected countries, Unlimited UK texts and 15GB national data of internet. Your chosen bundle is set to Auto-renewal and if you don't opt out, it will renew automatically once it expires. Before it is due to be renewed, Lycamobile will remind you and you will be given the option to cancel it.
There will be a renewal charge that will be deducted from your balance or through a payment card. To cancel a Lycamobile Auto Renewal Bundle plan, call *190# from your cell phone with a Lycamobile SIM card in it and follow the instructions. You need to know that a cancellation request made after the expiry date will not be taken into consideration.
Step 3 – How to Cancel Lycamobile Account
If you want to cancel your Lycamobile account, then you need to access the Lycamobile Login page and Sign in to your account. Enter your Lycamobile phone number and the chosen password. If you don't have a password yet, click the register button on the right. Then locate the close account link into your My Lycamobile account and you are done. If you can't do that by yourself online, read the following paragraph to find out which?is the Customer Service number.
Step 4 – Contact Lycamobile Customer Service Contact Number Helpline
In order to cancel your Lycamobile account or your Lycamobile SIM card you just need to follow some steps and you are done. But if you can't handle it by yourself, you may contact the Lycamobile phone number 0207 132 0322 and a member of the customer service team will assist you in case you want to go ahead with your Lycamobile cancellation!