For DVLA customer service (Vehicle Enquiries) 0300 790 6802
DVLA is vehicle licensing government organization working efficiently in UK. DVLA means Driver and Vehicle Licensing Agency which is dedicated towards fulfilling the expectations of customers. They provide top quality services and customers can contact them easily for all kind of assistance. The trained professionals are appointed in DVLA staff that is always available to listen to the customer?s grievances. DVLA contact number number is 0300 790 6802 that can be called for resolving issues.
DVLA contact numbers
DVLA contact timings
Enquiry support

Vehicle tax enquiry

Driver support

Welsh support

between 8 AM- 7 PM from Monday to Friday and

between 8 AM- 2 PM on Saturday

Medical Support
between 8 AM-5:30 PM from Monday to Friday and

between 8 AM- 1PM on Saturday

Driving License support
between 7:30 AM-6 PM from Monday to Friday
DVLA Enquiry address
Your enquiries can be asked in written form by sending letter at following DVLA enquiry address
Correspondence Team, DVLA, Swansea, SA6 7JL
You can write your query in detail along with contact numbers as it will help them to understand your issue properly and respond your back as soon as possible to the mentioned address. You may have queries related to vehicle registration, V5C certificates, obtaining DVLA information, requirements for selling a vehicle, registration number of vehicle, Import of vehicles, exporting vehicles etc. The DVLA customer service advisor will help you to resolve your issue and he will be available at DVLA customer service contact number 0300 790 6802. The timings for calling advisor is between 8 AM- 7 PM from Monday to Friday and between 8 AM- 2 PM on Saturday. You can even get the information online by visiting this page. You will get all information related to vehicle registration, V5C certificates etc.
DVLA Payments
If you wish to reach DVLA enforcement centre or make payment, it is very simple. You just have to call on DVLA enforcement contact number 0300 790 6808. You need to be ready with paperwork and license number. It will save your time because customer executive will ask these details. DVLA department will take appropriate time to resolve your query. It is to be noted that calls made on 03 numbers from landline will be charged 12p per minute. However if you are calling from mobile, the charges are approximately 3p to 45p. The abroad callers will be charged on different basis. You need to check the rates of network service provider.
DVLA Vehicle Tax Enquiry
Your enquiries related to Vehicle tax & SORN can be resolved easily by calling DVLA vehicle tax enquiry number 0300 790 6802. The call timings for this number are between 8 AM-7 PM from Monday to Friday and between 8 AM-2 PM on Saturdays. The enquiry can be made online too regarding vehicle tax, SORN making, getting vehicle refund, and making payment etc. by visiting this link. Your further enquiries of Vehicle license applications and declarations related to SORN can be made by dialing DVLA enquiry line number 0300 123 4321. If you wish to make the enquiry online, visit this page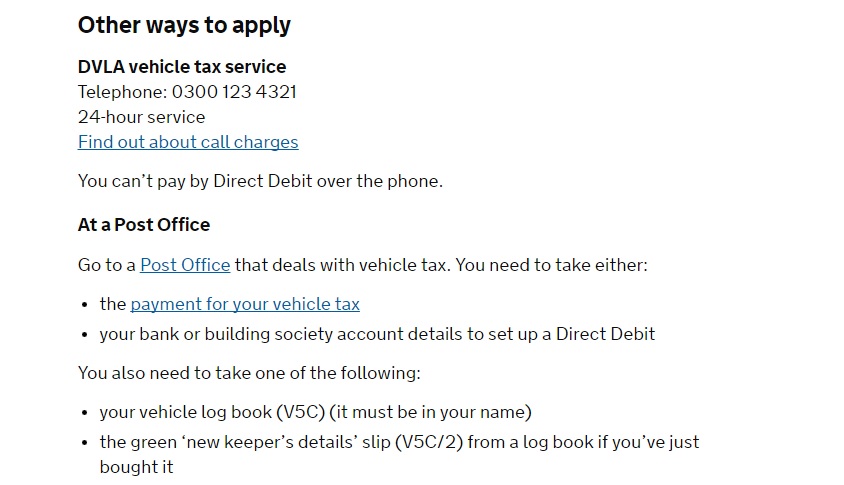 DVLA Drivers customer services
The drivers can make their enquiries like how to order forms from DVLA, tracking status of driving license application, viewing detailed information regarding driving license, making application of provisional driving license, making changes in driving license like address, name etc., and replacement of lost, damaged or stolen driving license by contacting this DVLA drivers customer service number 0300 790 6801. The number is reachable between 8 AM-7 PM from Monday to Friday and between 8 AM-2 PM on Saturdays. You can ask all your driver enquiries between these timings without any problem. Alternatively, you can ask online all information at this page.
DVLA Medical Contact Number
There is separate DVLA medical centre where all medical and driving vehicle issues shall be resolved. The DVLA medical contact number is 0300 790 6806 which is accessible between 8 AM-5:30 PM from Monday to Friday and between 8 AM- 1PM on Saturday. If the drivers are facing any medical condition or disability, they should inform DVLA regarding this or any other health related condition. The DVLA may require them for reapplication of license. All such procedures can be asked on above mentioned DVLA medical enquiry number. You can resolve these issues even online at this DVLA medical centre page
The driving and medical issues related to buses, lorry or coach can be handled by contacting DVLA medical group number 0300 790 6807. This DVLA customer service helpline is available between 8 AM-5:30 PM from Monday to Friday and between 8 AM-1 PM on Saturday. On this contact number, the drivers can discuss with experts their medical condition, disability or any serious health issue. They can also be asked about reapplication of license in case drivers having medical conditions. All other additional information regarding medical issues can be gathered online by visiting this page.
DVLA Driver check contact
DVLA driver check contact number can be used for checking license of person hiring a vehicle. If you are doing business of hiring car and you want to check the license of a person hiring car from you, you need to take driver?s permission first. After getting permission, call on above mentioned number. You can even check this information online by visiting this DVLA driver license enquiry page.
DVLA customer service Swansea phone number
This service can be used by the customers who want to contact local office of customer relations department. They will just need to dial DVLA customer service Swansea phone number 0300 790 6809 and explain their issues. The customers who wish to get personalized registrations of their vehicles, they need to contact DVLA personalized registration number 0300 123 0883. Here the customers are required to explain their personal choices and their issue will be properly handled.
DVLA Welsh Contact Number
There is special helpline for Welsh customers. They can make their enquiries by calling DVLA Welsh contact number 0300 790 6819. The helpline is also available online at this page. The customers who are facing problems in speaking English or welsh can get help on and get their queries resolved related to vehicle tax and registration. The enquiries related to driving license and medical conditions can be asked on DVLA enquiries number. The contact timings for these numbers are between 8 AM-7 PM from Monday to Friday and between 8 AM-2 PM on Saturdays. If you wish to solve your enquiry online, you can fill up online form and send it to customer support by visiting this page.
DVLA Enforcement hotline
DVLA enforcement centre is dedicated to handle your cases or reports regarding dumped, abandoned or un-taxed vehicles. You can report the case to DVLA by calling on DVLA enforcement helpline number 0800 032 5202. You will not be charged anything for making calls on this number.
DVLA Courts department
DVLA court section can be called upon if you wish to get duplicate license. You need to dial DVLA courts department number 0300 123 0792. DVLA cannot stop or revoke your license. You can obtain any information regarding obtaining license from this contact number. Even driving policies will be explained in detail. Your landline call will charge you 12p per minute while call from mobile will cost 3p to 45p per minute. The abroad rates will vary if you are calling outside UK.
DVLA Renewal of Driving License
If your license is getting expired, no need to worry as you can easily get it renewed by calling DVLA renewal of driving license number 0300 123 0815. The call charges are 12 p per minute if call is made from landline and approx. 3p to 45p per minute if call is made from mobile. If you are non-resident, these call charges won?t apply. You can even go to your network service provider for checking rates applicable. You can even get this renewal assistance online.
DVLA Driving License Certificate
Driver and Vehicle Standards Agency (DVSA) need to be contacted if you want to gather information regarding driving tests and Driver CPC tests.? You can also get information online. For driver tests information, you need to visit this page. For getting information related to driver Certificate of Professional Competence, you need to visit this page. There is special DVSA contact that can be used to make MOT, vehicle enquiry and approval enquiry. The DVSA contact number is 0300 123 9000 that can be called between 7:30 AM-6 PM from Monday to Friday. You can also ask your query through email by sending it at [email protected] .
DVLA Customer Complaints
The customer complaint department can be called for filing complaints if you are not satisfied with DVLA service. You can call on DVLA customer complaints number 0300 790 6802 for raising your issues. The complaint can be filed in written form by writing letter at following address:
Complaints Team, DVLA, Swansea, SA6 7JL?
You can even file complaint online by filling details mentioned at this page.
Contact DVLA through social media- Facebook, Twitter & other apps