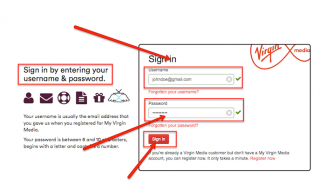 How to Cancel Virgin
First, if you like to cancel Virgin, you can call their customer service using our signposting service (the service will cost you 7p/minute and your access charge, remember that you can find more ways free and local rate numbers to contact them such this number: 0800 952 8046 which is a FREE PHONE! Our signposting service number for virgin (number that will cost you per minute) is 0843 837 5390 call will cost you 7p/minute plus your access charge, as part of our call connection service. Find more numbers on this page.
Virgin Media is a British company operating in the United kingdom, offering television, broadband internet, mobile and fixed telephone services. With the headquarters in Hook, UK, Virgin was formed from the merging between Telewest and Virgin Mobile UK. Virgin Media had more than 4.8 million customers, with around 4 million customers for broadband services and 4.1 million customers receiving fixed telephone services and 3.7 million customers having television services. If you have a Virgin account and you want to cancel it, reading this article will help you do that easier. To cancel your Virgin account, you need to follow some steps.
First, enter Virgin website
Log in to your Virgin account
Check any fees you need to pay for your Virgin cancellation
Contact virgin customer service alternate number 0345 454 1111
The information that you will be able to found on this page will act as a guide created in order to help you make your Virgin cancellation easier. You will understand if you have to pay some cancelling fees or more important information. If you want to find more about Virgin Media, please visit the Virgin Contact Number Page.
Step 1 ? Enter Main Virgin Website
Entering the main Virgin Media website will help you understand what kind of conditions you need to meet in order to cancel your actual Virgin account.
Enter Virgin website following this link
Make sure you know what Virgin service you want to cancel(Broadband, TV or Phone)
Prepare a payment method in case you need to pay cancellation fees for early contract termination with Virgin Media
Broadband, TV and Phone Line
When you cancel Broadband, Tv or Phone line you will have to meet the same conditions and pay some cancellation fees in case your contract has not ended. In order to cancel your account, you need to know that you may have a 9, 12 or 18 months contract that needs to be over, otherwise some fees may occur. You can read below the cancellation fees and conditions.
Step 2 ? Review Virgin Cancellation Fees and Conditions
If you want to cancel your Virgin account, just call 150 from your Virgin media mobile or phone or just the customer service number at the bottom at this guide. When you want to terminate your account you have to pay some cancellation fees if your contract has not ended. If the contract has ended, you have to notice Virgin media with 30 days before leaving.
When you cancel your Virgin Broadband, you will still be able to use your Virgin Media Mail for an additional period of 90 days. This period is granted so you can save your contact, files or emails that you want to keep. When the services will be disconnected, you will be notified if you are due some refund on your account, in case you have paid in advance for any Virgin services. The refund will be sent as a cheque in 35 days after closing your account to the contact address provided.
Step 3 – Log Into Your Account And Cancel Your Virgin Service
In the top right of the Virgin homepage, you will find a sign-in link. When you get to that page you will have to insert your Username and Password. If you forgot any of these credentials, you can use the Forgotten username or Forgotten Password link to get new ones. If you don't have an online account already, you can register using the Register now link. Once you are inside your Virgin account, you will be able to see your bills and payments, your mobile bills, mobile usage, broadband usage and you can change your billing options. To the right of My Bills and Payment, you will be able to see the My Products link. Click that link and locate the service or product that you want to cancel from Virgin. If you can not handle that online, you will still be able to do it by the phone, calling the customer number below.
Step 5 ? Contact Virgin Customer Service Contact Number Helpline
You will discover that is not difficult to cancel any of your Virgin services or products. If you can not do it online on the Virgin web page, then you will be able to cancel any service or account by contacting the Virgin phone number 0345 454 1111. There an agent from the support team will be able to solve this cancellation for you.